Giveaway Alert!
What do you do with ripen Kiwi fruits? You eat them of course. But what if you want to try something different? I came across this awesome Kiwi Bread recipe that is so easy peasy, Nicole could make it on her own! And there's no yeast involved!
The key factor here is RIPEN Kiwi. This gives the bread a natural sweet taste that makes it oh-so-yummy! It's so simple! Look:
Nicole cut a slice out from the centre cos it smelt so good. We had it hot with ice cream. YUMMY!
This is what you need:
Ingredients:
Serves: 10 Yield: 1 loaf
2 cups all-purpose flour
1 teaspoon baking powder
1/4 teaspoon baking soda
1/2 teaspoon salt
1/2 cup butter (soften) or 1/2 cup margarine (soften)
2/3 cup sugar (1/2 portion Brown Sugar, 1/2 portion White Sugar)
2 eggs
1 cup peeled mashed kiwi fruit (ripe)
Directions:
1 Preheat oven to 350 degrees. Grease and flour a 9 X 5 X 3 loaf pan.
2 Sift together flour, baking powder, baking soda and salt and set aside.
3 In large bowl, cream butter and sugar together until light and fluffy. Add eggs one at a time to creamed mixture beating well after each one. Stir in kiwis. Fold in dry ingredients gently, stirring only until batter is completely moistened. Spoon batter into pan and bake for 55-65 minutes or until toothpick inserted comes out clean. Cool for 10 minutes on wire rack. Remove from pan and continue cooling on rack.
Alternatives: You can add in one tablespoon of honey if the kiwis are not fully ripen.
Look at our bread!!
GIVEAWAY TIME!!
Special requests from our readers: the very useful Kiwi Containers!!
Each of these containers come with an exclusive Zespri Kiwi cutter and spoon. Makes your packing and eating mess free!
*All gifts are sponsored by Zespri. Winners will be notified by email, collection of the items will only be at Suntec on weekdays.
Get your Kiwi Container today!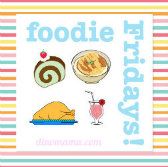 (Visited 598 times, 1 visits today)