I love going to the market. I love the smell of fresh food, the wide array of choices and strangely, I love the haphazard layouts of markets and the stalls. You really don't know what's fully in store for you at the market! So you can imagine how thrilled I was when I found out there's a secret market in Toa Payoh, which only operates in the night!
Ok I apologise. It's not a secret cos many people know about it, and definitely all the residents there! But it is a secret if you have no idea, cos there's really no clue what happens just before the clock strikes twelve! Pardon the yellow tinge in the photos, the lighting ain't very good!
Take a look at the secret market in Day Time:
It looks like an ordinary road, at the edge of a housing estate. And that's what it is. One straight road leading to Toa Payoh Golf Range. Ahhh come again at 11 p.m. and you see a makeshift open-air Vegetable Market with about 8-10 stalls. It is quite extraordinary as trucks would drive in from Malaysia, bringing in some of the freshest produce. Suddenly, this sleepy road comes alive with various vehicles slowly coming through the road (it's not closed to traffic!) and various ones with bags and bags full of vegetables.
Every time I do my marketing here, I'm just reminded how different this is from the regular market. Here's Four Qs about the Toa Payoh East night market you will experience:
QUALITY Produce available
These are all fresh vegetables from Malaysia. So fresh that it's still in the original packaging! (btw, the non-tropical stuff like Broccoli and Mushrooms are packed in ice boxes!)
If you are looking for leafy greens, you won't find small puny ones. You get large bunches with large green leaves.
Comfortable QUIET in the air
Maybe because it is in the late of the night, or maybe it's out in the open under the orange street lights, or maybe everyone just knows what they want… There's little talking, except for an occasional chat between the regulars and stall owners. Even that chat is quick and to the point. You don't get conversations about 3rd aunty or politics or the falling Ringgit.
But that's ok. At that hour, everyone is focused on finding what they want and picking the best lot. You see, the people shopping at the market were quite a mixed lot. There were people like me, shopping to get a good buy and heading home to sleep. There were also foreign workers who bought huge quantities for their dorms. I think they should be heading back to sleep too. Then they were market stall owners or restaurant owners who bought even larger quantities to head back to prepare for the day's business. So no time for gossip or idle chatter.
Besides, you don't want the neighbouring flats to complain if you burst out laughing loudly!
Minimum QUANTITY you have to buy
For certain items like Onions or Potatoes, you have to buy it as they come. That is, the entire bag. What I did was to but one sack and split the loot with family or neighbours.
There's also pre-packed tied together vegetables. Check out the Pandan Leaves. You have to grab the ENTIRE bunch if you are buying this!
For others, it's ok to take whatever quantity you require.
Look at the Cherry Tomatoes! I bought about half a bagful, and not the entire carton. And it was ok! The stall uncle would weigh it and charge accordingly. I've not tried buying 1 cucumber though… (didn't dare to, since everything is so large scale!) I bought 5, and there were no issues whatsoever! For stuff like cabbage or cauliflower, I just bought one. No issues too!
Conclusion: Anything that's open and displayed loose, you can pick and choose the quantity you desire!
Everything is QUICK here
There are no trolley or basket around. All you need to do when you arrive is go to the stall or truck, grab some plastic bags, and start shopping! You pick your stuff in the plastic bags provided, put them in a corner that DOES'NT OBSTRUCT TRAFFIC, and when you are ready to pay, just bring everything to the weighing machine.
We did a short video of the stall owner weighing and tallying the final cost. He does it so fast I can't follow how much it costs. But you can be sure, it's cheaper than your regular market and supermarket. You can see all FOUR Qs in the video!
I like shopping here. It's cheap, the food is fresh, and there's no huge crowds to jostle with. A truly different side to Singapore. Do visit this market if you can! It's quite an experience!
Toa Payoh East Market
The market is open six days a week from around 11pm to 6.30am. It is closed on Sundays.
This post is part of the 'To Market, To Market' Blog Train hosted by Life's Tiny Miracles. To read about other local markets in Singapore, please click on the icon below.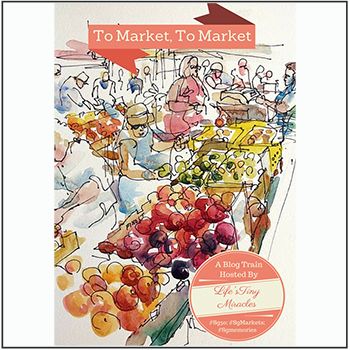 Next on the blog train, is Danessa Foo from PrayerFull Mum. Danessa is enjoying the "perks" of being a Stay-at-Home Mum in Singapore after being overseas for 2 years. This mama is glad to be home. Read on to find out how much she loves her quaint neighbourhood and the mini wet market, which might be gone soon …
(Visited 9,802 times, 1 visits today)