Aladdin was one of the many stories my mum told me when I was growing up. The story was set in this far away land and the hero was always the genie in the lamp! (the question was always what would your 3 wishes be??) It was one of the many fairy tales that I grew up with. Now this was way way before Disney came along and created that famous full length cartoon movie with award-winning songs. With that movie, the magic level in this story went up many notches!
Disney brought in that flying carpet…and helped us visualise the story, and gave us beautiful songs to singalong with! If you watched that wonderful cartoon, (which even my kids did–countless times!) you would appreciate the story more! Somehow, that cartoon made Aladdin more real! Then came 2019… the year Aladdin became a movie AND the year Aladdin the Musical came to Singapore!
Now, the movie was wonderful! BUT the musical! It was phenomenal! 
Our family loves musicals. We love to watch singing and dancing live, we love good stories performed live in front of us. We just love LIVE performances! And Aladdin was definitely one of the best family musicals we've seen thus far!
I never thought I would make a statement like this. No one should use the word "Best" so loosely. But that's what Aladdin was—a most spectacular & entertaining musical! Every part of the show was magical simply cos everything was well thought out. You see, the musical is produced by Disney Theatrical Productions! Yup… from that same Disney family! So you can be SURE.. the magic is retained, the high standards of entertainment, and the effort put in to create LIVE MAGIC!
Imagine almost 500,000 Swarovski crystals on over 300 glittering costumes! (they really GLITTERED) And beautiful exotic flying (REAL flying) scenery for the magic carpet scene! Most AMAZING! Everyone watching was looking hard for invisible strings that held the carpet, or some hidden cable that's holding it…But zilch. There was nothing. either that or it was totally invisible! 
The script was very tight with witty lines, and strong vocals which added super entertainment value to this musical. In fact, it brought me back to my childhood days when the Genie was the star in the story! This Genie has the most hilarious lines, his personality was oozing, his ability to interact and connect with the audience made his an instant star. So good!
So who should watch this musical?
Well, those with young kids, you definitely have to bring the entire troop for the show. It is so good! And if you don't have young kids, You also must catch this musical. It is a treat to relive that Aladdin memory in this excellent excellent production! By the way, do you know Singapore's the ONLY stop in Asia for this tour? Go Go Go!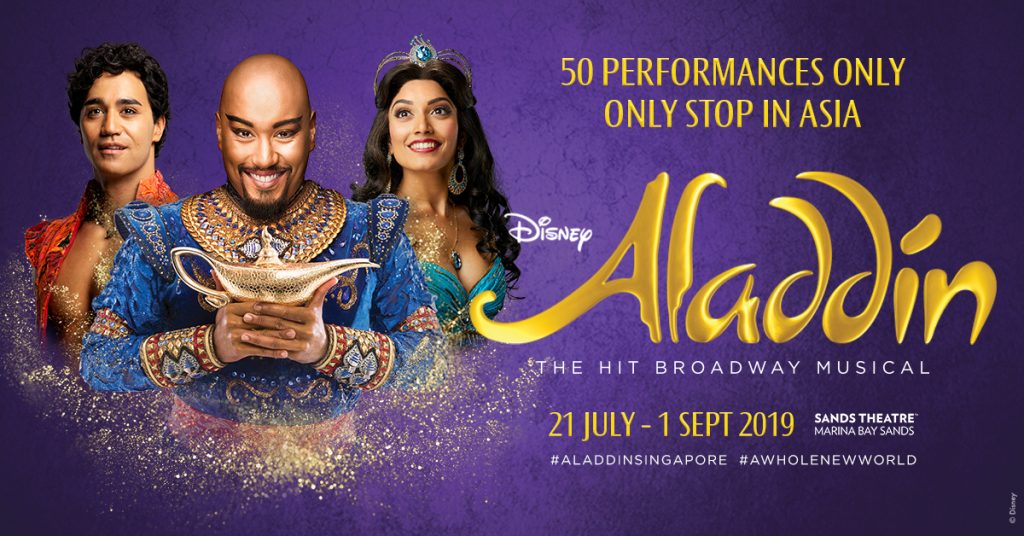 Aladdin The Musical
Now till 1 September 2019 at Marina Bay Sands Theatre
Tuesday to Friday – 7:30 pm
Saturday – 2:00 pm & 7:30 pm
Sunday – 1:00 pm & 6:30 pm
Tickets from $68*
*Excludes booking fee of $4 per ticket.
Bookings:
For more information please log onto www.MarinaBaySands.com
(Visited 585 times, 1 visits today)